A Disability Plan looks
after your income in
case of an accident
A Hospital Plan covers
the expenses should you suffer an emergency

Debt Relief ensures that
you don't leave your
family in debt
A Funeral Plan assists
with the expenses
related to a funeral
What to expect from Momentum Life Cover
This is what Clientele Life Cover Pays Out
How much do you get from 1Life Life Cover?
Get Life Policy Quotes from only the best South African companies
LifeCompare.co.za provides you with life policy quotes from some of the best life insurers in South Africa. But you get quotes and that's that! Well, we try to provide you with as much information about the various companies we work with, and the general elements that constitute a life insurance policy.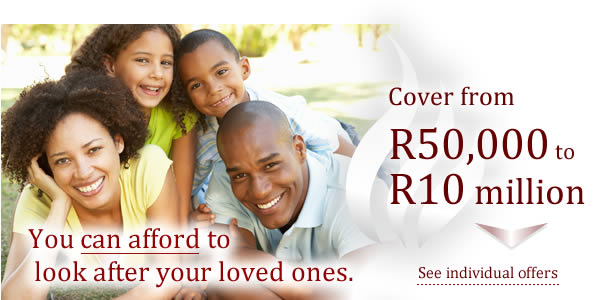 We've made life insurance terms easy to understand, click here for more.
Your beneficiaries are the people that you want the money of your life policy to go to. In most cases, people choose their immediate family as beneficiaries. These can include your parents and your in-laws as well. It is then these people's duty to take care of your financial affairs when you have passed away.
Life Insurance Policy
The insurance policy itself is a piece of paper/s that document/s the terms and conditions of your life insurance. The first provision reflects your monthly insurance premiums, which you contribute for the duration which you are insured. Life policy quotes themselves act as an estimate of your probable monthly premiums once you take out the policy. The life policy quotes we provide you with are based on the minimal information that you provide us, and therefore may eventually be affected by factors relating to your health once you are ready to take up life insurance. This is why there has been a significant focus in the past few years by the life insurance companies to extend cover even to HIV positive people.
Your life policy is not just a contract where monthly premiums are set. On its terms and conditions, there are provisions made by the insurer that if and when you miss a payment, what is to be done. Often, you can miss one month of payments without your life insurance being cancelled. However, a growing trend has been to allow policyholders to miss more than just one month. A company like Hollard for example, allows for up to six months of a grace period during the lifetime of your life policy.
Within the policy, other information dictating your relationship with your insurer are stipulated. For example, the policy documents indicates how much will be your lump sum payment when a claim is made. There are other clauses that handle your misrepresentation of important information that might affect the way the your monthly premiums are calculated, and the payout amount thereof.
Life policies are standard among most of the insurers as they are regulated by the same Financial Services Board. However, what sets one policy apart from another are the benefits afforded to the life insurance buyer (now the policyholder). These benefits could be cash back plans, access to general services and discounts, medical and health insurance, and most commonly a funeral/death insurance part.